This timeline of significant dates tracks key events for pioneer stations in Kansas City and nearby communities. Get a timeline for the stations you're interested in or for a particular year (you can combine these criteria, too).
Be sure to select at least one data entry field below, or click on the checkbox to see the entire timeline.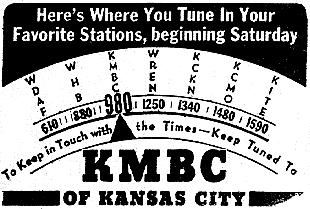 An advertisement from the Kansas City Journal-Post advises KMBC listeners of the new frequencies for local stations once the March 29, 1941 reallocation of most North American AM stations went into effect. KITE went off the air the next year (see timeline entries for W9XBY), while KCMO and WHB moved to new frequencies with more power after World War II.