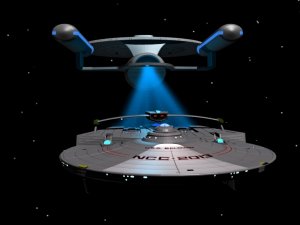 Personal Log, Stardate 54003.4: As Baldwin is being towed by Wildfire, I have been released from sickbay. Patrick and Tiana are doing good as well.
I guess that, since he came into my life three years ago, I've felt that Patrick was "the one" for me. When I joined the Baldwin crew, Patrick and I worked together very well. I always loved it when he was able to put a smile on his face – something that was hard to do in the middle of a war. I know that seeing him made me smile as well.
I could also tell that he was sexually attracted to me, even if he tried to repress it. I also knew what could happen when I became his mate. Still, the smile on his face when he saw our daughter for the first time was priceless.
"So, what's going to happen?" Bridget asked.
"We're being towed to Starbase 42 for replacement of the dilithium crystals," Patrick answered. "I'm also making sure everyone aboard has some R and R time."
"I suppose everyone's going to want to see the baby," the new mother noted as she joined her husband next to the cradle.
"I think you can count on it," Patrick answered as the happy parents watched their newborn daughter as she laid asleep in her bed. Patrick turned to kiss his wife on the cheek. "I love you too, sweetie."
"If you're going to kiss me," Bridget replied, "do it right." She turned her husband's head so that she looked into Patrick's brown eyes before pressing her lips to his in an intimate embrace.
"Considering you just got out of sickbay after giving birth," Patrick said as Bridget let go, "you seem to be full of energy. Maybe it's the 'augment' part of you."
"Sometimes," Bridget retorted, "I think you find the 'augment' part of me sexy."
Before Patrick could respond, Tiana reminded her parents of her presence. "I thought you just fed her."
"She's probably got some gas," Bridget answered.
Patrick picked up his daughter carefully and patted her on the back. "That's a good girl, Tiana. You just need a little help…." Patrick took a pause as the baby burped. "That's much better." As he laid the little girl back in the cradle, Patrick looked at her face and observed Tiana deliver a smile. "Would you look at that, Bridget? She has such pretty blue eyes."
---
Patrick sat in his Ready Room, catching up on his paperwork. A lot of his crew stopped to congratulate Patrick on being a new father and told him that they thought his smile had become brighter. One thought, however, had him concerned. Although Starfleet's primary mission was one of peace, the past three years have turned Starfleet toward war. Even though the Dominion had been defeated in the Alpha Quadrant, their presence has brought a degree of paranoia which continued. Patrick knew that raising his daughter aboard a ship will bring a possibility of placing her in harm's way.
As he collected his thoughts, he was paged from the Bridge. "Bridge to the captain," Donna announced, "Admiral Dillon would like to speak with you."
"Put him through," Patrick replied.
Admiral Dillon's face appeared on Patrick's console unit. "Captain," he said, "how are your wife and daughter?"
"Bridget's recovering nicely, and my little princess is a healthy little girl."
"Very good," the Admiral replied. "I'd like to meet them."
"Sir," Patrick continued, "I doubt you called me because you wanted to talk about my family."
"I'd like to meet with you, and your wife is welcome to join us if she wants to, about your plan to 'turn' Dr. Murrow. I understand if she's still exhausted or wishes to spend time with her baby, but her insight into her father would be most helpful."
"If you can make it an informal session, I think we can handle it. I know I've got two boatloads that would love to meet Tiana. Also, since I have you here, I was also thinking about a change away from all of this battle. With my daughter arriving, I'd prefer to do without it if I can."
"I know how you feel. There are no guarantees in Starfleet, but I see the Baldwin as sort of a testbed ship. You, of all people, know a bit about technological innovation, and to me, that makes a perfect match of ship and captain."
"Thank you, sir."
---
Patrick opened the door to his quarters as Bridget greeted him. "Hey, sweetie," Patrick stated as he moved in for a slow kiss and wrapped his arm around her.
"I just fed and burped Tiana and put her down in the cradle," Bridget replied.
"I talked to Admiral Dillon," Patrick said as he stroked his wife's long black hair. "He would like to hear your input on turning Dr. Murrow to our side."
"I suppose he also wants to see the baby like everyone else," Bridget answered.
"Guilty as charged." Before Patrick and Bridget could continue their intimate embrace, the lights started flickering before going out. The couple went over to the window to see if they were under a surprise attack. "We're still being towed and still at warp," Patrick commented. "Ingrum to Bridge."
After several seconds of silence, Bridget tried her combadge. "Commander Ingrum to the engine room." There was still no response.
Patrick grabbed a PADD from the bedroom counter. "Is this thing charged up."
"I set it on the charging unit 3 hours ago."
Patrick proceeded to use his PADD's internal radio to hail Wildfire. Patrick was glad when Amanda's face appeared. "Is everyone all right over there," Amanda stated.
"I can only speak for my family," Patrick replied.
"We noticed that you lost auxiliary power all of a sudden. It looks like your computers are down."
"I guess I'll try to figure out what's going on." Patrick deactivated the PADD and grabbed a tricorder while talking with Bridget. "I'm going to check the main computer core, to see what's going on. Let me see your combadge." Patrick tapped a corner of the badge. "That should bypass the computer." Patrick made the same adjustment with his combadge. "Call me if you need anything."
Even with a daughter dependent upon her, Bridget was a independent woman. She knew this was more a sign of affection. "I love you too, Patrick," she answered as she planted a quick kiss on her husband's lips.
---
Patrick approached the computer core where a group of engineers were gathered outside. "Lieutenant," he said to the lead engineer, "What seems to be the problem."
"I-I-I'm sorry, sir," the junior lieutenant stammered. "We were working on a set of problematic ODN lines. We intended to shutdown the power to this section, but somehow we knocked out power to the whole ship. We're on emergency life support systems."
"What's your name."
"Bosworth, sir."
Patrick moved over to to the door of the computer room. "Has anyone bothered to check the computer room, Mr. Bosworth," Patrick asked as he placed his hand on the door.
"No, Sir. We figured that the computer shut down with the loss of power."
"Place your hand right here, and tell me if you feel anything unusual."
Lieutenant Bosworth felt silly, but did as his captain requested. It didn't take him long to figure out was was unusual. "The door feels warm, sir."
"What do you think that means?"
"It means that this room is warmer than out here."
"Exactly. The computer room is running warm." The main computer generates lots of heat that must be dissipated, otherwise the main processor would fail." Patrick opened up his tricorder to get a sense of just how hot the computer room has become. "It's 44 degrees C in the computer room, that's when the computer shuts itself down to prevent damage."
"And in order to cool down the computer room to get it restarted, we need to get the environmental systems on line, which requires us to restart the computer."
"You've got a recursive loop, Mr. Bosworth. Are there any other alternatives?"
"I can get some portable cooling units in there; however, It will take some time to cool it down."
"How long?"
"36 hours. We'll be in space dock by then."
"Go ahead and put in the portable cooling units. Once we're tethered into the starbase, we can tether into the starbase's computer to get the main environmental controls back on line."
---
"We have arrived at Starbase 42," Anna stated as she proceeded to take Wildfire out of warp.
"According to Captain Ingrum, the main computer is still off line," Amanda stated, "therefore, we will need to nudge them into place. It's all yours, Lieutenant."
"Aye, sir," Anna replied as she handled the controls. Anna gradually slowed Wildfire down, while Baldwin matched their speed under the influence of the tractor beam. Anna nudged the ships in a slight upward direction toward an unoccupied dry dock port. She lined her trajectory so that the Baldwin would have a clear shot into the dry dock. She turned to the tactical station. "Release tractor beam in 5, 4, 3, 2…"
On cue, Maria used her controls to deactivate the tractor beam. Anna promptly reversed thrusters and slowed to a stop while Baldwin continued its trajectory toward the Spacedock. "Starbase 42, Wildfire," Maria stated as she opened a channel, "Baldwin is all yours."
"Understood," came the reply. As Baldwin entered the dry dock, the dock's tractor beam engaged to retard Baldwin's forward momentum and position the ship into place.
---
With no computers, there was no reason for anyone to be on the bridge. Most of the crew, including Patrick, Bridget, and Tiana, gathered in the mess hall to watch as Starbase 42's umbilical lines interfaced with Baldwin, activating lights, displays, and interface panels. It would only take a few more hours to restart Baldwin's computer; however, as soon as power came back on in the mess hall, a panel on the wall beeped to indicate an incoming message. Patrick took the call, it was Admiral Dillon.
"I see you made it hear in one piece, captain."
"Yes, sir. We had an incident where the data center overheated, but I think there was no additional damage done."
"I'm sure your engineering crew will have Baldwin back up in no time; however, I intend to hold you here for a couple of weeks. I want to make sure your systems are in tip-top condition and will be adaptable to a couple new projects that have come out. We can talk more about it this afternoon. Your crew is more than welcome to make themselves at home here at Starbase 42."
"Aye, sir. I will let them know," Patrick said as he ended the communication. "Attention!" Patrick exclaimed. Immediately, the crew present stood at attention, including Bridget, despite being dressed in civilian clothes. "As you were. Admiral Dillion has advised me that we will be held here for a while and that this crew is welcome to make themselves at home. We will have a social gathering with the Admiral this evening at 1800 in the wardroom on the base. You are all welcome to attend, and I'm sure many of you would like to meet the newest member of Baldwin's crew," as he finished, he motioned toward Bridget, who was carrying Tiana in her arms. "Attire for this evening's gathering will be your regular uniforms. Everyone is free to go."
As the crew dispersed, Sara approached the captain, "You wanted to speak with me?" she inquired.
"Yes, Lieutenant," Patrick answered. "As you know, the computers shut down when an engineering crew was preparing to fix an ODN line. I need you to investigate what happened."
"I'd like to take a look at that conduit," Sara stated.
"I figured. Bridget, if you want to meet with us after you put Tiana to bed."
"Sure. Is the baby monitor set up?"
"Right next to the cradle," Patrick answered.
---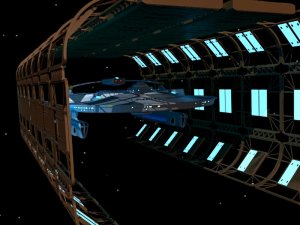 Patrick had already opened the console panel and shown Sara the repair site when Bridget approached them. "Find anything interesting yet?" she inquired.
"I'm a lawyer, not an engineer," Sara replied. "Patrick had told me that the engineer who was working on this described the line as 'problematic.'"
Bridget knelled down to take a look. She noticed several back lit cracks along the ODN fiber. "There's several partial breaks on this fiber. That will certainly cause data loss."
"I see what you mean now," Sara replied. "A good ODN cable should be completely transparent from this angle." Sara reached down for a PADD that she brought. She looked up the wiring diagram for the ship. "This line is a main pipe directly from the computer core."
"I'll put that on our repair order," Patrick answered.
"Meanwhile, I'll interview the engineering crew."
"You are planning on joining us tonight at 1600?" Bridget inquired. "I'm sure Admiral Dillon would appreciate your insights."
"I wouldn't miss it," Sara answered. "I'm sure everyone wants to get to know Tiana."
---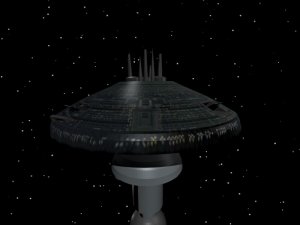 Ten minutes before the start of the session, the Ingrum family were the first to enter the Starbase Wardroom. A young non-comm was working on setting up a cradle in the middle of the room. She was surprised to see someone else in the room. "I'm sorry, sir. I didn't know I was running late."
"No, petty officer, we're just a bit early. We wanted to get here while the little one was still sleeping."
"I see. The cradle is ready, as you requested."
"Thank you, petty officer," Bridget replied as she placed Tiana in the cradle.
As the petty officer left the room, Admiral Dillon entered. "Captain,"
"Admiral," Patrick replied.
Admiral Dillon turned to Bridget. "You must be Bridget. I've heard so much about you. I can see why Captain Ingrum loves you."
"I've got a few extra pounds on me, but taking care of Tiana ought to be enough of a workout to take care of that."
The four-star Admiral looked into the bed. "She's very beautiful," he stated. "Captain, you are one lucky man."
"Thank you, sir."
The Admiral took the opportunity to discuss the business at hand. "The reemergence of Khan, the acceptance of Dr. Bashir, Roslyn, and Bridget into the service, and the Dominion itself has redoubled interest in genetic engineering at Starfleet Medical. The last time Starfleet attempted to do a live study of the human genome 12 years ago, there were some unintended consequences."
"What does have to do with Dr. Murrow?" Bridget inquired.
"In exchange for amnesty, Starfleet Medical would like for Dr. Murrow to provide his insight on Genetic Engineering, with the possibility of further loosening the reigns on the genetic engineering restriction. In fact, there's a white paper here written in the mid 22nd Century that has been recently been made available to me."
Patrick took the PADD and looked over it with his wife. "Dr. Arik Soong, he's the one that caused an interstellar incident by having a second go with the Augments."
"According to this theory," Bridget noted, "the original Augments weren't so perfect after all. The genes that regulate aggressive behavior were defective."
"If it is possible," Dillon continued, "we would like for him to perform some test on Khan to prove or disprove this theory." Plus, he's had the chance to dissect the Jem'Hadar genome. If he would be willing to show us what he knows, it would be an intelligence bonanza."
"We'll let him know, somehow." Patrick replied.
"Please do," Dillon finished."I also heard that your computer went down."
"Just a case of overheating," Patrick answered."However, I'd like for the Starbase engineering team to take a look over our ODN infrastructure. Some of the data lines are a bit iffy."
"I'll have our crew examine your network immediately."
---
"Hey," Amanda said as she approached the Ingrum family.
"Hi, Amanda," Bridget replied."I hope we haven't caused you too much trouble."
"Anything to see the little one," Amanda commented. "Anna was right, she's a beautiful baby." Tiana was awake in the cradle as Amanda looked over her."Hello Tiana," Amanda said. "I know your mom and dad will be there for you." As the baby smiled, Amanda turned back to Bridget, "It's kind of interesting. A woman with no mother becomes one."
"I apparently do have a father though, and I understand he wishes all the best for the three of us."
"I heard Starfleet is offering Dr. Murrow amnesty in exchange for information on Khan's activities. Do you think that's wise?"
"Not only do I think that it's wise," Patrick answered, "I made the recommendation myself," Patrick answered.
"With the concurrence of his bride," Bridget added.
"How hard do you think it will be to turn him."
"Turning him is the easy part since he's willing to turn. Making sure he stays alive, that's the hard part."
As Amanda turned to give others a chance to see the baby, she made a comment to Bridget. "Good luck keeping him in line," she said.
Sara Jackson came up to Patrick and Bridget with Admiral Dillon along side. "Captain, I was just talking with Admiral Dillon about the computer crash."
"From a maintenance standpoint, I think an overhaul of the ODN system is in order. As for your engineering team, it appears they made an honest mistake."
"Part of the cause of the data center failure was the lack of a separate power conduit from auxiliary power to the environmental controls in the data center."
"I'll take it that would be your first recommendation."
"We've already got it on our plate," Admiral Dillon replied. "I'm placing Baldwin in for a 90-day refit. and placing your crew on leave."
"In the meantime," Sara continued, "everyone will have a chance to admire little Tiana. Her eyes are very stunning." Sara looked into Tiana's sky-blue eyes as she carefully picked the infant out of her cradle. The infant smiled as Sara caressed her.
"Looks like our daughter likes you," Bridget replied.
"It's too bad you don't have any baby pictures," Patrick commented."I think she'll be just as beautiful as her mother." Patrick hugged Bridget by placing his arms around her waist.
"You're such a flirt," Bridget replied as she kissed Patrick on the cheek.
"Don't worry, Tiana," Sara commented, "I doubt you'll be an only child for long."
A server approached the group."Would any of you like something to drink?"
"I'll go for a Piña Colada," Bridget answered.
"Going for a little Island escape, eh," Patrick answered as he continued to flirt with his mate."I'll have a lemonade."
---
The next morning, Patrick awoke to find that Bridget was already up. "Hey, sweetie. What brings you up this early?"
"I fed Tiana, and while I was at it, sent a message to Dr. Murrow and looked over the upgrade plans for Baldwin's cabling."
"Do you think you have time for one of these," Patrick said as he wrapped his arms around Bridget and gently pressed his lips to her. Patrick focused on Bridget's eyes. "I don't think I've ever seen you shine like this before. Your eyes are the color of emeralds."
"I think the first thing that I saw when I first met you was your brown eyes," Bridget answered. "As for my green ones, I'm glad you like them. Feel free to hold me in your arms for a bit longer."