In the 1920s, radio was as big as the Internet became in the 1990s. Pioneer broadcasters in Missouri and Kansas became involved just like their counterparts in the rest of the United States. Some of the stations that were started during that frenzied time are alive and thriving today. Others have gone to the great antenna farm in the sky. Read on to discover more about early broadcasting in the heartland!
Kansas City stations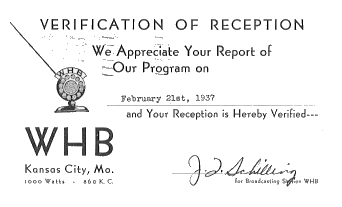 The following stations were considered the pioneers stations for Kansas City. Not all of them survived.
Note: WREN is now KYYS; WDAF is now KCSP; KCKN is now KDTD
Northeast Kansas stations
These are the stations from the area just west of Kansas City in the Lawrence/Topeka area.
St. Joseph/Atchison stations
KAIR (Defunct, formerly in Atchison)
Central Missouri Stations
St. Louis stations

Other Features