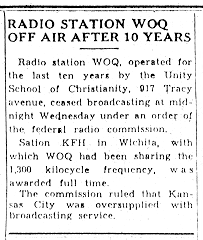 WOQ may indeed have been Kansas City's oldest radio broadcast station, with a license date of February 17, 1922, at 833 kHz and 500 watts. The WOQ transmitter definitely was used for WDAF's first broadcasts, and may have been used by pioneer station WHB as well.
WOQ was started by the Western Radio Co. in 1922, and subsequently purchased by the Unity School of Christianity in 1924. The station does not appear to have been a fulltime operation. By 1925, it was on 1080 kHz along with 22 other stations, according to the June 30, 1925 Department of Commerce list of U.S. radio stations. By the end of that year, WOQ had increased power to 1 kW.
However, one of the mandates of the new Federal Radio Commission in 1927 was to reduce interference among stations. One of the techniques used was to reduce the number of channels in use by forcing stations to share time. In the first reallocation, which was announced May 24, 1927, WOQ was ordered to share time with WHB on 890 kHz, with a corresponding cut in power to 250 watts. WHB, with 500 watts, had been sharing time with WDAF. The shift actually took effect on June 15, 1927.
White's Triple List for October 1927 showed WOQ sharing time with WHB at 890 kHz with 500 watts, but another change was in the works: on December 1, 1927 (announced November 16), both stations moved to 880 kHz. By then, WOQ had been allowed to go back up to 500 watts, but only until 6 p.m. WHB did not have such a restriction.
In the big reallocation on November 11, 1928, WOQ got a new partner for sharing time: WDAF. both stations were authorized for operation with 1 kw at 610 khz. wdaf was to move from 810 khz. WOQ was to operate on 610 for one-seventh of the time; WDAF operated the remainder of the time.
In a regional reallocation announced December 2, 1929, WDAF was granted fulltime operation and WOQ was moved to 1300 kHz, where it would have two-sevenths of the time and KFH, Wichita, Kansas, would have the remaining five-sevenths. KFH had been sharing time with WIBW in Topeka, which moved to 580 kHz to share time with KSAC in Manhattan. The changes took effect November 30, 1929 at midnight.
In 1929, KGBX in St. Joseph applied to move from 1370 (where it was sharing time with KWKC) to 1310. The FRC on January 2, 1930 granted KGBX a permit to operate fulltime at 1310 kHz, but "experimentally [i.e., provisionally] when WOQ is operating". KGBX subsequently moved from St. Joseph to Springfield, Missouri (thereby giving the Ozarks city its first radio station since the 1920s), on November 3, 1932, at which point the WOQ provision was removed.
As part of its mandate to reduce interference, the Federal Radio Commission was required by the Davis Amendment to calculate which states had more than what was considered their fair share of radio service. The calculations took into account both station power and the number of stations. Missouri was one of the states determined to be oversupplied with radio stations.
While that was going on, the Unity School of Christianity proposed a sale of WOQ to the Fairfax Broadcasting Company. The Unity School owned half the company while a local company owned the other half. WOQ made a routine application for approval to the FRC. At the same time, KFH made a competing application for full-time staus on 1300.
While an FRC examiner recommended approval of the WOQ application and rejection of the KFH application, the full Commission overruled the examiner on December 18, 1931, evidently taking WOQ by surprise, judging by this quote from the next day's Kansas City Times:
Lowell Fillmore, treasurer of the organization, said any action that the school might take would have to be determine later. That the commission made such a decision without first giving the school a hearing was an unusual procedure, C.M. Frangkiser, in charge of the station, said.
The FRC ruled that giving WOQ's time over to KFH would allow KFH "to substantially enlarge upon its service". The Commission also said:
It does not appear that the deletion of WOQ would deprive the persons within the service area of that station of any substantial radio service not now received from other stations.

The granting of the application for unlimited time operation of KFH and the forfeiture of facilities now assigned WOQ would work a more equitable distribution of the broadcasting facilities within the fourth zone–in that there would be increased broadcasting facilities in Kansas, which is now assigned less than its share and a decrease in the facilities of Missouri, which is now assigned more than its share.

(Broadcasting, January 1, 1932; Kansas City Times, December 19, 1931)
WOQ was ordered to leave the air by January 7, 1932. The Unity School appealed to the U.S. District Court of Appeals, which granted a stay order on January 7, 1932. It was one of several cases being considered by the court in connection with General Orders 92 and 102 of the commission, which were its regulations executing the requirements of the Davis Amendment to have radio service more equitably distributed.
(At the same time, WHB had also filed suit: citing the FRC orders, the commission had denied its request to increase daytime power from 500 to 1000 watts.)
Finally, early in 1933, the KFH-WOQ case was heard in court. On March 13, 1933, the court of appeals sent the dispute back to the FRC, ordering the commission to hold a "proper hearing" on the case.
On May 8, 1933, in a case involving Chicago station WIBO, the U.S. Supreme Court upheld the FRC's powers to revoke station licenses in order to meet the Davis Amendment's quota requirements. It also ruled that the FRC did not have to follow its own examiners' recommendations, a ruling directly relevant to the KFH-WOQ case.
Pursuant to the WIBO ruling, the Radio Commission on June 23, 1933 ordered WOQ deleted and its facilities assigned to KFH for fulltime operation, effective twenty days from the date of the decision. Broadcasting reported:
The Commission held that the residents of Wichita and vicinity have far less dependable broadcast service than those of Kansas City and vicinity and that the granting of full time to KFH and the consequent forfeiture of WOQ will bring about a more equitable distribution of broadcast facilities….
WOQ obtained a stay order from the U.S. District Court of Appeals on July 10, 1933, enabling it to remain on the air during appeals.
A Commission decision late in 1933 could have given WOQ another means of staying on the air. The Commission allocated three channels in the newly opened 1500-1600 kHz band for experimental high-fidelity broadcasting. WOQ applied for one of the available channels, along with First National Television, a Kansas City trade school. However, on April 20, 1934, First National won the slot, going on to operate station W9XBY from 1934 until 1942.
WOQ was losing in court, too. WOQ filed a petition for rehearing with the Court of Appeals on March 9, 1934 after the court upheld the FRC's decision to delete WOQ on February 19, 1934. After all court appeals were exhausted, the FRC on May 25, 1934 ordered WOQ to cease operating on June 14, 1934, thereby permitting KFH to operate fulltime.
WOQ had been broadcasting primarily on Sundays and one weeknight per week by then. Some of its programming was picked up by WHB.
KFH in Wichita subsequently moved to 1330 kHz under NARBA on March 29, 1941. It was purchased by Entercom in 2000, placing it under commom ownership with WDAF and KMBZ. They subsequently moved to 1240 in a frequency swap with co-owned KNSS.