Kansas City was home to one of just four experimental high-fidelity AM stations in the United States. But the experiment went sour just a few years later and, by the end of 1942, the station had lost its license.
On December 19, 1933, the Federal Radio Commission authorized three new broadcast-band channels above the previous upper bound of 1500 kHz. The three channels, at 1530, 1550, and 1570 kHz, were 20 KHz wide instead of the standard 10 kHz, thereby making high-fidelity broadcasting possible without interference from adjacent stations.
The band had been made available the previous summer as the result of action at the North American Radio Conference in Mexico City. In the United States, public-service agencies were using that part of the band.
There were two Kansas City applicants for 1530 kHz. The Unity School of Christianity, owner of WOQ, was seeking the channel as a means of staying on the air if it lost its fight to stay on 1300 kHz. The commission had attempted to deny WOQ a license renewal in 1931.
The other Kansas City applicant was First National Television, Inc., operator of a radio engineering school and holder of an experimental television license, W9XAL. First National was partially owned by Arthur B. Church, the principal owner of KMBC.
On April 4 and 5, 1934, the Federal Radio Commission held hearings on all six applications:
Unity School of Christianity, Kansas City, 1530 kHz, 1000 watts
American-Republican, Inc., Waterbury, Conn., 1530 kHz, 1000 watts
First National Television, Inc., Kansas City, 1530 kHz, 1000 watts
John V. L. Hogan, Long Island City, New York, 1550 kHz, 1000 watts
Pioneer Mercantile Co., Bakersfield, California, 1550 kHz, 1000 watts
Fred W. Christian, Jr., and Raleigh W. Whiston, Los Angeles, 1570 kHz, 1000 watts
Two weeks later, the Commission approved all except the Unity and Los Angeles applications. According to Broadcasting, "The fact that more applicants for the newly opened wave lengths did not appear has produced considerable surprise, particularly in the ranks of the Radio Commission."
Additional applications were subsequently filed by two applicants seeking to build a station in the Boston area: the General Television Corp., and D.E. Replogle, a consulting engineer from Ridgewood, New Jersey. Neither application made it on the air.
The Radio Commission assigned call letters to the four approved stations on May 25, 1934:
W1XBS, American-Republican, Waterbury, Connecticut
W9XBY, First National Television, Inc., Kansas City
W6XAI, Pioneer Mercantile Co., Bakersfield, California
W2XR, John V. L. Hogan, Long Island City, New York
On December 31, 1934, W9XBY began operations. One source for this date is the Variety Radio Directory for 1937-38, which lists a start date of December 31, 1934 for KXBY at 1530 kHz.
A pamphlet published by W9XBY in 1935 is titled Interesting facts about W9XBY. Among those facts is a reference to the station's studios on the 29th floor of the Kansas City Power and Light Building and a description of the station's "latest type 'Vertical Radiator' antenna" operating with a 1,000-watt transmitter at a location in south Kansas City, Missouri. Based on the description, I had long estimated that this tower was located somewhere along 85th Street, the southernmost Kansas City limits at the time.
That was a pretty good guess. In 2007, I purchased an Official Guide and Map of Greater Kansas City published by the Gallup Map & Supply Company of Kansas City in 1935 or 1936. which included a list of local radio stations.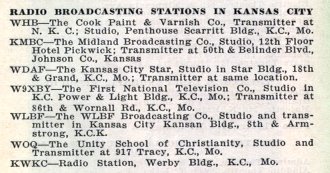 At page 30 of the guide is this entry:
W9XBY–The First National Television Col, Studio in K.C. Power & Light Bldg., K.C., Mo.; Transmitter at 86th & Wornall Rd., K.C., Mo.
A scrapbook of Kansas City Journal-Post articles now possessed by former KFRU principal owner Al Germond makes frequent reference to the "unusual" programming heard on W9XBY and KXBY. According to the 1935 W9XBY pamphlet, it had "full commercial privileges and accepts sponsored programs."
The president of W9XBY, Sid Noel, told the Kansas City Journal-Post that the station received more than 2,200 letters from listeners "in all parts of the United States and Canada" beginning with its New Year's Eve inaugural broadcast.
An undated Kansas City Journal-Post article from 1935 described W9XBY's programming as part of a Variety survey of local radio "showmanship":
Arthur Church's KMBC goes after community tie-ups and is showmanship-minded as is W9XBY, the experimental lisensee [sic] in which Church is interested. Latter has done some unusual programs due to its tentative character. Among these are burlesques of other Kansas City station programs, a Swappers Corner, negro fraternity tie-ups, local baseball broadcasts.
One of those programs reached some important ears at far distances. A record producer and talent scout, the now-famous John Hammond (later a CBS Records vice-president), heard a live broadcast from Kansas City's Reno Club in 1936 on W9XBY while sitting in his car in Chicago. Hammond was listening to the Count Basie Orchestra. Hammond wrote a letter to Basie, Basie responded and helped launch Basie's career in New York. (Source: Calvin Wilson's article in the Kansas City Star, Stomping to Fame, page J-1, July 14, 1996.)
Another source says that Hammond received no reply from Basie. (That source also says that Hammond was listening to W9XBY in New York.) Finally, according to this account, Hammond went to Kansas City to hear Basie in May 1936. After that, Hammond recommended Basie's W9XBY broadcasts to bandleader Benny Goodman, who listened in on a portable radio while in Chicago. Then, according to this version, Goodman recommended the Basie band to MCA. (Source: William J. Ryan, African-Americans in Local Broadcasting: Kansas City, 1922-1982, p. 8.)
On the technical side, Everett L. Dillard joined W9XBY shortly after it started. He first was the station's continuity director, and later was the chief engineer. According to an article in the Kansas City Journal-Post, "Dillard brings to the station a background of technical and program experience and is assisting in lining up remote controls [sic] which are to be featured by W9XBY." Dillard was also the founder of WLBF (later KCKN) and, by 1941, had put Kansas City's first FM station on the air, KOZY.
In November of 1936, the FCC permitted the four high-fidelity stations to adopt regular call signs. According to the December 15 issue of Broadcasting, the station ran a promotion asking for new call letter suggestions. Many listeners submitted "KCSS" for "Kansas City's Sports Station." However, management elected to go with the call letters KXBY instead, effective November 27th, 1936. In July of 1938, as part of an internal reorganization, the station changed its calls to KITE. As part of promoting the new call sign, the station adopted a kite motif in its promotional material, as well as giving away free kites at local drug stores. High-fidelity broadcasting ended when the 1500-1600 kHz band was allocated to broadcast stations under NARBA. KITE would switch to standard broadcast operation and move to 1590 kHz on March 29, 1941.
At some point during this time, KITE's owner, First National Television Inc., became involved in protracted litigation. One of First National's founders was KMBC president Arthur B. Church. For whatever reason, according to Broadcasting, "Later Mr. Church withdrew from the company and entered into litigation with the corporation structure, which became highly involved and confused." (November 9, 1942)
Other original owners included former Federal Radio Commissioner Sam Packard and his brother-in-law, Kansas City attorney Richard K. Phelps. According to Broadcasting, "The station has undergone many management and personnel shifts, the latest having been ordered last July when it was placed under the direction of Mr. Phelps, who appointed Simms Guckenheimer, secretary of Transradio Press, New York, as its manager." (ibid.)
The End of W9XBY
An application to sell KITE to the owners of KLO in Ogden, Utah was made to the Federal Communications Commission in November 1941, but the deal fell through. On July 19, 1942, KITE changed call letters to KXKX and moved its studios to the Continental Hotel in downtown Kansas City.
A Broadcasting article reported, "a program policy has been set up which includes continuous variety music with several periods daily of classical music and news every hour on the half hour". (July 27, 1942) KXKX also continued KITE's practice of carrying Mutual network programs after Kansas City's regular Mutual affiliate, daytimer WHB, signed off at sunset.
The Commission had decided to hold a hearing on KXKX's renewal, beginning July 20, 1942. The hearing was continued to September 3, then September 21, then October 5.
Evidently, no one from the station showed up at the October 5 hearing. Thus, reported Broadcasting, "According to the FCC, First National Television Inc. … was without funds to continue operations. The denial followed failure of the station to put in an appearance at a hearing scheduled for last Oct. 5." (November 9, 1942)
Consequently, the FCC denied the license renewal "as in default" on November 6, 1942. The station had gone off the air one month earlier.
A Kansas City Star item on October 8 had this brief lead:
Radio station KXKX, operated by the First National Television, Inc., suspended operation this morning, according to Simms Gaynor [sic], manager.
The DX News on October 31, 1942 reported that KXKX had gone bankrupt and left the air permanently. Evidently, the FCC's action merely ratified what had already happened in Kansas City.
KPRS (now KPRT)
The 1590 spot on Kansas City's AM dial was reclaimed in September 1949, when KPRS went on the air from the Johnson County, Kansas suburb of Olathe, as a 1 kW daytime station. The station got up to a rough start, however, it did draw the attention of Kansas City advertising agency owner Andrew Carter. Carter had been buying two hours of time daily on a station in Leavenworth, Kansas, KCLO, broadcasting to African-American listeners in Kansas City. Carter found a partner and subsequently bought KPRS and moved it to Kansas City in May 1950. Legend has it that, at its Kansas City location, KPRS first went on the air with a wire antenna strung to the rafters of Municipal Stadium. However, William James Ryan says that KPRS was moved to Kansas City in 1952, going back on the air in November 2 of that year. Ryan also quotes Andrew Carter's grandson, Michael Carter, as saying in a 1991 interview that the wire antenna was put up after the first transmitting tower fell down. (Source: William J. Ryan, African-Americans in Local Broadcasting: Kansas City, 1922-1982, pp. 10-11.)
KPRS is one of the nation's first African-American-owned radio stations and, according to the station, the first African-American-owned station west of the Mississippi River.
The Carter family still owns the station, now KPRT(AM), at 1590 kHz, 1 kW daytime, 47 watts night, along with KPRS-FM, 103.3.
Related Links