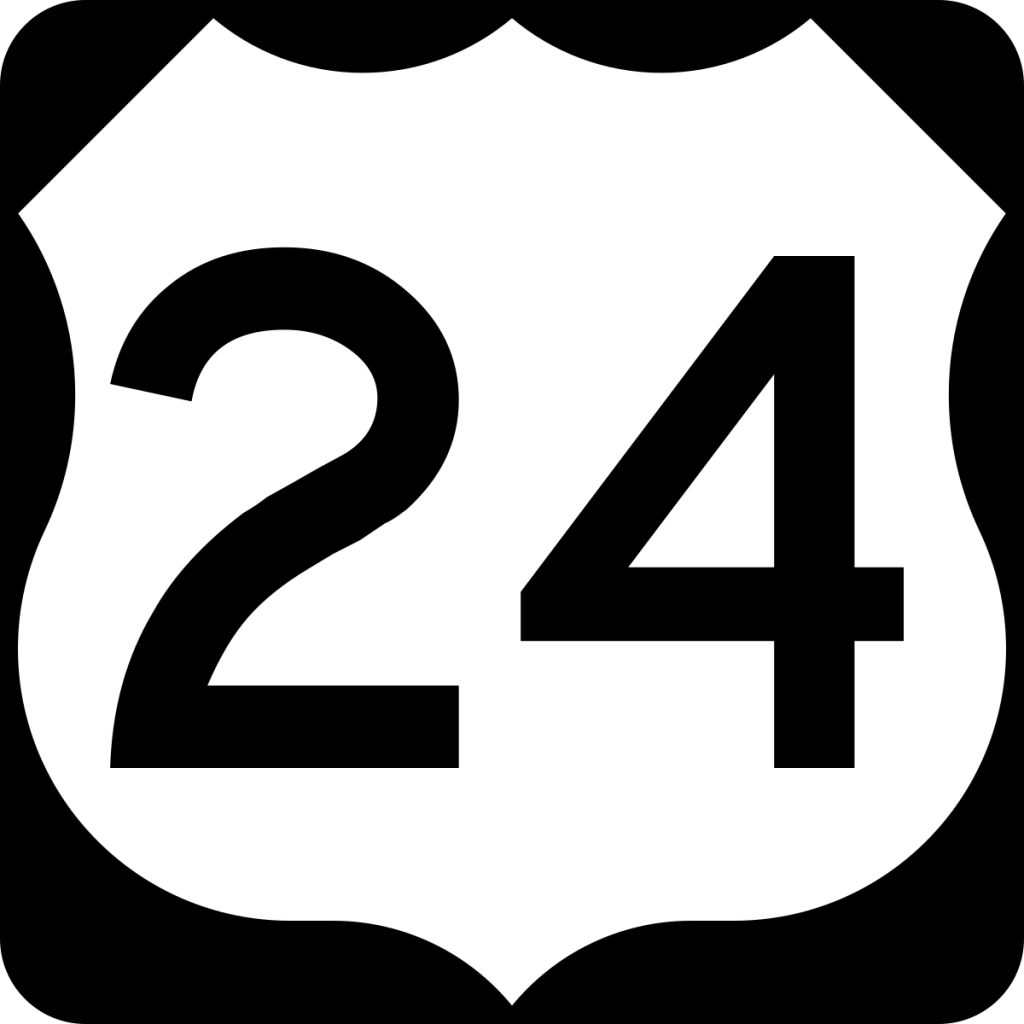 Length: 436.132 miles
West Endpoint:
Colorado State Line at Kanorado
East Endpoint:
Missouri State Line in Kansas City
Counties Served:
Sherman, Thomas, Sheridan, Graham, Rooks, Osborne, Mitchell, Cloud, Clay, Riley, Pottawatomie, Shawnee, Jefferson, Douglas, Leavenworth, Wyandotte
History
Initially, US 24 ended at Independence, Missouri. In 1936, US 24 was extended into Kansas, following US 40 to Lawrence, replaced K-10 from Lawrence to Topeka, followed 40 again to Manhattan, and replaced US 40N through the rest of Kansas and on to Limon, Colo. The stretch of US 24 between Topeka and Manhattan was re-designated solely as US 24 by 1957, when the "straight shot" between Topeka and Junction City was completed.
Several bypasses have been built along US 24. By 1968, 24 was relocated around Perry and by '69, 24 was rerouted in Graham county so that it became closer to the town of Nicodemus.
In 1999, US 24-40 in Wyandotte County was rebuilt to a five-lane arterial to accompany the new Kansas Speedway and associated development. In 2008, the road was rebuilt from the Speedway west to the K-7 interchange with a wide median. Upon the completion of the project, State Avenue east of K-7 was turned back to the Unified Government of Wyandotte County/Kansas City and US 24/40 relocated along I-70. The interchange with K-7 was re-opened January 22, 2009, and reassurance signs started appearing along I-70 in February.
Timeline
1936:

US 24 extended west from Independence, Missouri, replacing US 40N from the Colorado state line to Manhattan and K-10 from Topeka to Lawrence, with US 24 concurrent with US 40 between Manhattan and Topeka and between Lawrence and the Missouri state line.

Graded from the Colorado state line to Ruleton.
Gravel from Ruleton to Hoxie.
Heavy blacktop from Hoxie to Hill City,
Gravel from Hill City to Stockton
Concrete paved in Stockton
Gravel from Stockton to the Osborne/Mitchell county line
Medium blacktop from the Osborne/Mitchell county line to Beloit.
Concrete paved from Beloit to Simpson.
Gravel from Simpson to Glasco
Gravel from 2 miles west of the west junction with US 81 east to 4 miles west of Miltonvale.
Graded from 4 miles west of Miltonvale to Miltonvale
Concrete paved in Miltonvale
Gravel from Miltonvale to the Cloud/Clay county line.
Graded from the Clay/Cloud county line to 3 miles west of Clay Center.
Gravel from 3 miles west of Clay Center to Clay Center
Concrete paved in Clay Center
Gravel from Clay Center to the Clay/Riley county line.
Graded from the Clay/Riley county line Leonardville
Concrete paved in Leonardville
Graded from Leonardville to Keats.
Gravel from Keats east ~1.9 miles
Concrete paved from ~1.9 miles east of Keats to Kansas City.

New heavy blacktop alignment from Hill City east 2 1/4 miles.
Heavy blacktop from Bogue north ~ 3 miles.
Medium blacktop on "stairstep" curves 1 1/2 miles west of Woodston.
New heavy blacktop alignment and railroad overpass from 3 miles west of Clay Center to 6th Street in Clay Center.
Concrete paved from Clay Center east 2 miles.
Heavy blacktop from 2 miles east of Clay Center to the the south junction with US 77 at Riley.
Medium blacktop from Riley to ~ 1.9 miles east of Keats.
US 24 now hard surfaced from Clay Center to Kansas City

1937:

Heavy blacktop from Stockton east 5.5 miles
Heavy blacktop from 2.5 miles west of Woodston to 3 miles north of Osborne
Heavy blacktop from the west junction with US 81 to 3 miles west of Clay Center
New 4-lane alignment paved from K-7 to Kansas City.

1938:

New medium blacktop alignment near the east city limits of Colby
New paved alignment and bridge over Mud Creek near the Douglas/Leavenworth county line.

1939: New bridge west of Cawker City. Approaches downgraded from medium blacktop to gravel
1941: New concrete alignment from Rochester Road to Kaw Valley Road in Topeka opened to traffic, including railroad overpass and cloverleaf junction with US 75 (first cloverleaf in Kansas)
1942: New concrete alignment from south of Basheor east to US 73/K-7. Two-lane pavement on 4-lane right-of-way.
1947:

New concrete alignment from the Boys' Industrial School to Rochester Road in Topeka.
New concrete alignment from West Street in Tonganoxie to south of Basheor. Two-lane in Tonganoxie, two-lane pavement on 4-lane right-of-way from Tonganoxie to Basheor.

1950: Re-construction of the US 24/US 75 cloverleaf.
1951: New concrete alignment from 4 miles east of Manhattan to 3 miles east of Wamego, bypassing St. George.
1952: New alignment at west junction with US 59 near Williamstown.
1953: New alignment in Perry.
1954: New heavy blacktop alignment from the Mitchell/Clay county line to Glasco.
1956:

New heavy blacktop alignment from US 81 to Miltonvale.
New limited access alignment from Landon Road to Rochester Road in Topeka. Two lane from Landon Road to Menoken Road, 4 lane from Menoken Road east, with directional interchange at K-4 South (Westgate Bridge) and diamond interchange at Goodyear Road.

1960: New four-lane limited access alignment from Meridan Road east of Topeka to Detlor Road west of Grantville.
1963:

Widened to 4 lanes from Manhattan east 4 miles
Widened to 4 lanes from Detlor Road to 1 mile east of Grantville.

1965: Relocated from 3 miles east of Riley to the junction with K-13/K-177 on the east side of Manhattan via K-253 and K-177. Previous alignment turned back to Riley County.
1969: New super-two alignment from northwest of Newman, bypassing Perry, to 1 mile west of US 59 near Williamstown.
1977: Widened to 4 lanes from Grantville to Newman.
1995: Widened to 4 lanes between Tonganoxie and the K-7 interchange east of Basehor.
1997: Widened to 4 lanes from 4 miles east of Manhattan to Wamego.
2013: New four-lane alignment from Countryside Road to Menoken Road, including new diamond interchange at Menoken Road
Junction Guide
County Milepost
State Milepost
Junction
70-91/0.000
0.000
Colorado/Kansas State Line
(concurrent with I-70)
70-91/1.355
1.355
I-70 Exit 1: K-267
70-91/17.313
17.313
I-70 Exit 17: K-27/US 24B
70-91/19.308
19.308
Exit 19: East Junction US 24B
70-91/27.289
27.289
Exit 27: K-253
70-91/35.280
70-97/0.000
35.280
Sherman/Thomas County Line
70-97/1.158
36.438
Exit 36: K-184
70-97/10.445
24-97/10.445
45.725
I-70 exit 45
(US 24 leaves I-70)
24-97/19.649
54.929
K-25, Colby
24-97/29.573
64.853
US 83
24-97/37.893
24-90/0.000
73.173
K-186 spur to Menlo
Thomas/Sheridan county line
24-90/6.980
80.153
K-188 spur to Seguin
24-90/15.485
88.658
K-23, Hoxie
24-90/30.514
24-33/0.000
103.687
Sheridan/Graham county line
24-33/4.863
108.550
K-85 spur to Morland
24-33/10.247
113.934
K-84 spur to Penokee
24-33/17.021
120.708
US 283, Hill City
24-33/25.723
129.410
Junction K-18
24.33/30.568
24-82/0.000
134.255
Graham/Rooks county line
24-82/10.116
144.371
Junction K-258
24.82/18.425
152.680
US 183, Stockton
24-82/31.025
24-71/0.000
165.280
Rooks/Osborne county line
24-71/19.173
184.453
South Junction US 281
24-71/23.155
188.435
North Junction US 281
West Junction K-9
24-71/31.113
196.393
Junction K-181, Downs
24-71/34.097
24-62/0.000
199.377
Osborne/Mitchell county line
24-62/8.241
207.618
Junction K-128
24-62/20.720
220.097
K-14, Beloit
24-62/21.451
220.828
East Junction K-9, Beloit
24-62/30.160
229.537
K-193 spur to Asherville
24-62/32.814
24-15/0.000
232.191
K-194 spur to Simpson
Mitchell/Cloud County line
24-15/15.321
247.512
Junction US 81
24-15/27.142
259.333
Junction K-189
24-15/31.377
24-14/0.000
263.568
Cloud/Clay county line
24-15/13.116
276.684
K-15, Clay Center
24-14/21.893
24-81/0.000
285.461
Clay/Riley county line
24-81/2.498
287.959
Junction K-82
24-81/11.693
297.154
West Junction US 77
24-81/15.762
301.223
East Junction US 77
24-81/24.440
309.901
Junction K-113
24-81/25.376
310.837
Junction K-13
24-89/31.019
316.480
Junction K-177
24-89/31.028
24-75/0.000
316.489
Riley/Pottawatomie county line
24-75/13.980
330.469
K-99, Wamego
24-75/27.072
343.561
K-63, St. Mary's
24-75/29.193
24-89/0.000
345.682
Pottawatomie/Shawnee county line
24.89/18.675
364.357
US 75, Topeka
24-89/25.216
370.898
West Junction K-4
24-89/25.854
371.536
East Junction K-4
24-89/25.946
24-44/0.000
371.628
Shawnee/Jefferson county line
24-44/6.514
378.142
Junction K-237
24-44/14.342
385.970
Northwest junction US 59
24-44/18.705
24-23/0.000
390.333
Jefferson/Douglas County line
24-23/3.972
394.305
Southeast junction US 59
US 40 Joins US 24
24-23/6.402
396.735
Junction K-32
24-23/6.632
24-52/0.000
396.965
Douglas/Leavenworth county line
24-52/9.368
406.333
K-16, Tonganoxie
24-52/19.718
24-105/0.000
416.683
Leavenworth/Wyandotte county line
24-105/0.869
417.552
North Junction K-7
US 24-40 joins US 73/K-7
24-105/3.123
70-105/1.457
419.806
Junction I-70, Bonner Springs
US 24-40 leaves K-7 and joins I-70
US 73 ends
70-105/5.405
423.754
I-435
70-105/12.451
430.800
I-635
70-105/14.263
432.612
US 69 South/18th Street Expy
(US 69 joins I-70/US 24/US 40)
70-105/15.081
433.430
I-67-
70-105/15.656
434.005
7th Street Trafficway
(US 69 leaves and US 169 joins)
70-105/17.783
436.132
Missouri state line
(Concurrent with I-70/US 40/US 169)
Average Annual Daily Traffic (2019)
| Location | Count | Truck % |
| --- | --- | --- |
| On I-70 from the Colorado state line to Goodland | 12,200 | 19.7% |
| On I-70 from Goodland to Edson | 12,300 | 26.8% |
| On I-70 from Edson to Brewster | 10,100 | 36.1% |
| On I-70 from Brewster to the I-70/US 24 junction | 9,780 | 37.5% |
| I-70 to Thomas County Road 15 | 860 | 27.9% |
| Thomas County Road 15 to Colby | 1,340 | 17.9% |
| In Colby | 4,530 | 7.4% |
| Colby to US 83 | 2,670 | 13.2% |
| US 83 to K-186 | 795 | 29.6% |
| K-186 to K-188 | 890 | 23.0% |
| K-188 to Hoxie | 1,750 | 15.1% |
| In Hoxie | 2,890 | 7.4% |
| Hoxie to Tasco | 1,130 | 16.8% |
| Tasco to Studley | 810 | 21.0% |
| Studley to K-85 | 655 | 26.7% |
| K-85 to K-84 | 730 | 24.0% |
| K-84 to Hill City | 1,040 | 17.8% |
| In Hill City | 3,970 | 7.3% |
| Hill City to K-18 | 1,030 | 26.7% |
| K-18 to Webster Reservoir | 435 | 28.7% |
| Webster Reservoir to Stockton | 670 | 19.4% |
| In Stockton | 2,060 | 7.5% |
| Stockton to Woodston | 805 | 16.7% |
| Woodston to Alton | 505 | 23.8% |
| Alton to Osborne | 865 | 13.2% |
| In Osborne | 1,400 | 9.2% |
| Along US 24/US 281 Concurrency | 1,370 | 35.8% |
| US 281 to Downs | 1,340 | 24.3% |
| In Downs | 2,520 | 17.3% |
| Downs to Cawker City | 2,080 | 20.4% |
| In Cawker City | 2,490 | 17.5% |
| Cawker City to K-128 | 2,200 | 19.3% |
| K-128 to Glen Elder | 2,160 | 19.0% |
| Glen Elder to 260 Road | 2,430 | 16.9% |
| 260 Road to K-14 | 3,400 | 12.5% |
| K-14 to east junction K-9 | 4,610 | 9.7% |
| In Beloit east of K-9 | 4,210 | 10.2% |
| Beloit to K-193 | 2,100 | 21.7% |
| K-193 to K-194 | 2,000 | 22.0% |
| K-194 to Glasco | 1,850 | 23.5% |
| Glasco to US 81 | 1,990 | 21.9% |
| US 81 to K-189 | 1,320 | 16.3% |
| K-189 to Hackberry Road | 1,610 | 12.7% |
| Hackberry Road to Clay Center | 2,980 | 9.7% |
| In Clay Center | 7,470 | 3.8% |
| Clay Center to Quail Road | 2,980 | 7.5% |
| Quail Road to K-82 | 2,450 | 7.3% |
| K-82 to Leonardville | 750 | 21.3% |
| Leonardville to West Junction US 77 | 1,930 | 8.3% |
| US 24/US 77 concurrency | 3,910 | 9.5% |
| East Junction US 77 to K-113 | 7,350 | 6.7% |
| K-113 to K-13 | 6,660 | 6.3% |
| In Manhattan | 31,500 | 2.2% |
| Manhattan to Wamego | 12,500 | 6.3% |
| Wamego to Belvue | 4,670 | 10.1% |
| Belvue to St. Marys | 4,500 | 10.9% |
| In St. Marys | 7,330 | 6.0% |
| St. Marys to Rossville | 5,340 | 8.1% |
| Rossville to Silver Lake | 5,100 | 12.5% |
| Silver Lake to Topeka | 5,790 | 13.8% |
| At US 75, Topeka | 9,120 | 9.6% |
| US 75 to Topeka Blvd | 17,000 | 8.8% |
| Topeka Blvd to K-4 | 12,800 | 10.0% |
| K-4 to Grantville | 7,720 | 8.7% |
| Grantville to K-237 | 6,220 | 10.2% |
| K-237 to Perry | 5,510 | 11.3% |
| Perry to US 59 | 4,930 | 12.3% |
| US 59 to Midland Junction | 3,630 | 17.9% |
| Midland Junction to US 40 | 6,410 | 12.5% |
| US 40 to K-32 | 6,656 | 5.0% |
| K-32 to Tonganoxie | 4,260 | 7.5% |
| In Tonganoxie | 10,000 | 4.5% |
| Tonganoxie to Basehor | 15,300 | 4.4% |
| Basehor to K-7 | 19,000 | 4.2% |
| On US 24/US 40/US 73/K-7 Concurrency | 22,700 | 6.2% |
| On I-70 from K-7 to I-435 | 55,700 | 13.6% |
| On I-70 from I-435 to 57th Street | 74,400 | 10.6% |
| On I-70 from 57th Street to I-635 | 93,700 | 8.5% |
| On I-70 from I-635 to 18th Street | 85,200 | 9.9% |
| On I-70 from 18th Street to I-670 | 85,600 | 10.3% |
| On I-70 from I-670 to 7th Street | 22,400 | 32.1% |
| 7th Street to 5th Street | 21,000 | 33.9% |
| 5th Street to Missouri Line | 15,400 | 41.4% |